7 More Fantastic Things to Do in Ibague, Colombia
Ibague, Colombia is a unique mid-sized city in the country that sees little tourism. The city isn't a part of the coffee region, so many a tourist and traveler decides to skip the city in favor of others nearby.
But Ibague, Colombia offers a number of great things to do for the average traveler. If you speak a little Spanish, you could have a great time in this small city. Check out a few of the articles I wrote about Ibague here:
A "local" saw a few of my Ibague posts and wanted to chime in. Michael is from the UK and has been living in Ibague for over four years now. So here's his take on a few other great things to do in Ibague, Colombia:
Piscilago
This is a really big water park and zoo situated about an hours bus ride from Ibague, in Melgar. It's a great day out, and you can go to and from water slides and pools while you're walking around the zoo. You can pick up a bus back to the exit gate. I'd recommend going in the week to avoid the crowds. Click here to learn more.
Armero Tragedy Site
Armero tragedy site is situated about an hour from Ibague. You can go to the bus station and get a bus that passes there. A volcano from the Nevado del Ruiz completely destroyed this town and killed 23,000 people. You can go and visit the ruins of the town, and there is also a small museum there with information on the disaster.
Orchid Gardens
Great way to spend a few hours on the tour of the Orchid gardens in Ibague. Situated close to the center you don't need to travel far. The host is very friendly and speaks a bit of English. There are also lots of humming birds about and it was a nice day out. There are also some great views of the mountains while walking around.
El Carmen
This is a nice relaxing spot with a little lake where you can go and get out of the city and relax. You can hire fishing rods there and spend the afternoon fishing around the lake and drink a few beers. There's a restaurant there and a small swimming pool. There is also horse-riding available. Just ask a taxi driver for El Carmen.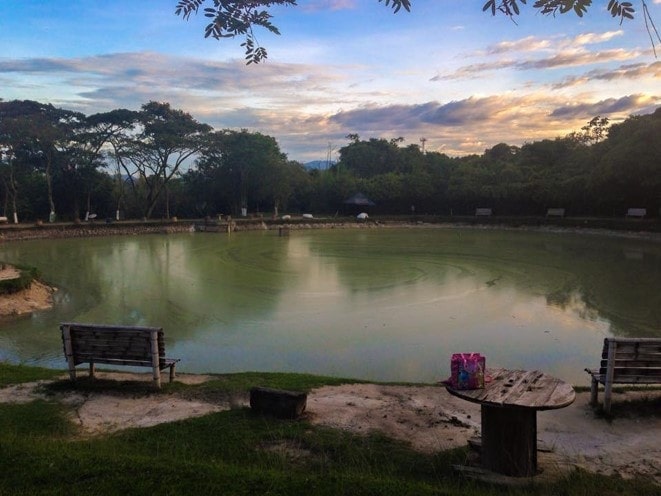 The Rice Park (Parque del Arroz)
About an hour away from Ibague is the rice park. Take a tour and see how rice is produced. There are also some pools, horse-riding, and many fun things to do there. A great day trip from Ibague. Click here to learn more.
English Movies on Tuesdays
If you just want to relax and watch a film, the Tuesdays at Cinemark are the place to be. You can watch the latest movies there in English with Spanish subtitle. The price is around 7000cop. The cinema is in the Multicento mall.
Try a Tamal or Three
If you're in Ibague, you simply can't leave without trying the tamal.  This is the home of Tamal, and you won't get it better anywhere else. Its normally sold at weekend, look for big pans on the streets, that will be local people selling it. It contains rice, carrot, chicken, potatoes, chickpeas, sometimes pork too, mixed with tasty herbs and steamed in platano / banana leaf. It costs 4000 cop.
Visiting Ibague?
If you're visiting Ibague and looking for a place to stay, get in touch with Michael. He offers a solid place to base up while in the region:
I have an apartment in Ibague and I'm renting a double private room for 1-3 people with great views of the mountains. The price includes breakfast. The apartment includes a water park, three pools, a gym, and we're close to all the malls. You'll also have easy access to the buses to the countryside and an English-speaking host to help you navigate the city or share a beer with.
Click here to learn more about this unique, ideally located Airbnb rental in Ibague, Colombia.